Organization of music events of any type
We have organized music events of any type, both local and International festivals which require multiple venues and an incoming planning for large number of tourists.
The organization of music events requires the correct management of multiple professional figures in order to ensure the technical and organizational success of the event itself. Pam and Tettuccio tour have teamed up a group of partners that are able to address all types of requests, from the booking part to the complete organization that a high profile music event may require, such as choosing the right venue for the performances, the best means of transport to reach the location, renting the instruments, obtaining necessary licenses and consents to reproduce music protected by copyright, meeting other local music groups, and much much more. We are sure this way nothing is left to chance and any event of yours will be as successful as expected.
Montecatini Terme, a privileged cradle of music and culture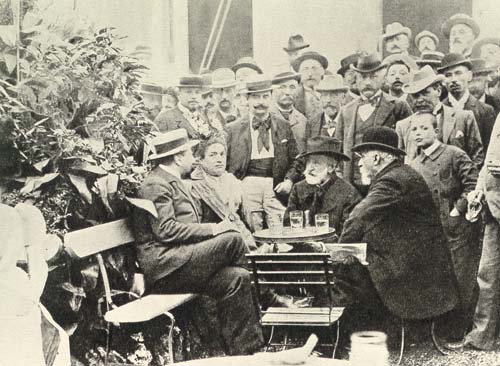 The Maestro Giuseppe Verdi in Montecatini Terme
Montecatini Terme has always been the ideal frame to the greatest music composers of all times.
Gioacchino Rossini spent long periods of time in Montecatini as a special guest  of  the Hotel Locanda Maggiore, where it can still be possible to visit his untouched "room for music".
Giuseppe Verdi was hosted repeatedly in the same hotel starting from 1882 for the following 19 years. Here he used to meet Boito and RIcordi,  and here he composed some of his greatest works. Also Giacomo Puccini used to come to Montecatini Terme and Montecatini Alto and here he had long conversations with Arturo Toscanini, Enrico Caruso and many other special guests. Ruggero Leoncavallo was at first an occasional visitor, but then he loved the town so much that he eventually decided to move here for good. He became for many years one of the main protagonists of local cultural and music life until his death, occurred in Montecatini in 1919. It is also possible to remember, among all local guests, Pietro Mascagni, Richard Strauss, Alberto Fianchetti who frequented Montecatini with D'Annunzio and many other artists.
But Montecatini is not only related to history and culture of the past. There is still a great summer Festival, and music and cultural events throughout the year. Not to be forgotten the Puccini Festival in Torre del Lago and the renowned Maggio Fiorentino in Florence, two locations that are easily reachable from our town.
Some pictures of our music events
ALL PAM & TETTUCCIO TOUR SERVICES